There are a lot of cloud services. It's hard to find our way among all of them and identify the option that best suits our needs. Especially when the same type of service is presented to us in different ways, under different names and from different providers. A case in point is cloud storage. It's also known as online storage, online drive, shared drive, file server, FTP, server, box… and this list goes on.
Maybe you've heard about OneDrive. Or maybe you're already using it. What about OneDrive for Business? Do you know Office 365? And, do you understand the difference between them?
What are OneDrive and OneDrive for Business?
The short version is: OneDrive is intended for personal storage. OneDrive for Business, on the other hand, is one part of Office 365 (or SharePoint Server). It gives you a place in the cloud where you can store, share, and sync all work files. It can be a standalone product but is most often included in an Office 365 subscription, which gives you an extensive set of tools for your workspace.
Let's dig further into some more details about each of these products.
OneDrive
OneDrive (previously known as SkyDrive) is a free storage space provided by Microsoft. You just have to type onedrive.com in your browser to find it.
To access it, you need a Windows Live ID which can be your Xbox Live account, your Outlook.com email account (previously Hotmail.com), your Skype account (the former MSN Messenger ID), or the account you used to sync your old Zune device. This Microsoft account is basically an email address and a password. That's all.
With OneDrive, you get 5GB of free storage (15GB if you signed up before February 2016) that you can use to store any kind of file, including photos, video and documents. OneDrive organizes your files by type for you, so it's easy to find what you need. You can access your files from a PC or MAC or your mobile devices (Android, iOS, Windows Phone and even BlackBerry 10).
OneDrive is perfect to store your personal files. You can also share them with friends, family or even colleagues.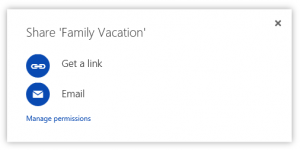 This version may be free, but you still get .
Unexpected options are available through the web browser. You can browse any connected PC you've set your OneDrive account on, so you can even access files stored on the PC that are not saved to OneDrive.
Windows 8.1 and later versions plus all Office applications will allow you to save files directly to OneDrive as a built-in feature; the same thing Outlook.com does for attachments.
File versioning will help you retrieve previous versions of your documents.
You can set OneDrive to automatically back up your camera files (photos and videos).
You can download the mobile and desktop apps as an alternative to using a web browser. The integration with Xbox will help you watch your personal images and videos saved on OneDrive directly on your TV.
You can also set two-factor authentication (2FA), which involves receiving a code on your mobile phone whenever you need to access it. Or, you can activate PIN or fingerprint identification for more security on the mobile app.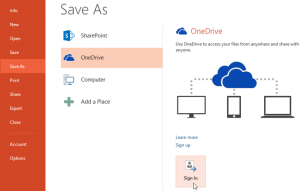 OneDrive can basically be compared to Dropbox, Box or Google Drive for your personal files.
OneDrive for Business
As its name indicates, OneDrive for Business is designed for organizations. It allows a company to provide cloud storage to its employees and manage its usage from a central location.
Talking about OneDrive for Business leads us to another Microsoft product: SharePoint. Why? Because when SharePoint 2013 was released, OneDrive for Business was part of a whole streamlined experience. Its role was to synchronize SharePoint document libraries across different user devices.
For those who don't know, SharePoint is a collaboration platform for organizations. It provides a corporate website where teams and departments can create their own workspaces to store, co-author and share documents or any other professional files. Each user automatically gets a "My Site" library in SharePoint, which is like a home drive or an equivalent of the "My Documents" on their corporate PC. Depending on the server edition it runs on, SharePoint can allow the integration of different applications so it can be used as a unique platform for the company. SharePoint is either installed on-premises or hosted in the cloud. It's not a free product, so companies have to buy licenses to run it. In other words, using OneDrive for Business involves some cost.
It offers advanced features compared with those available with the free version of OneDrive. The storage quota limit depends on the SharePoint platform your company uses. There is a limit in the number of files you can sync with OneDrive for Business: 5,000 for a regular document library and 20,000 for the "My Site" library. Of course syncing files will help you use them offline on your devices. File versioning is enhanced for OneDrive for Business, as it involves the notion of minor and major versions. This is a very important feature in co-authoring.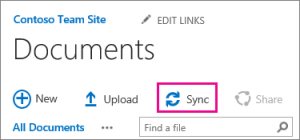 Can OneDrive for Business be used without SharePoint? The answer is yes. Companies can choose to provide storage space for their employees for document backup or as a mobility feature. Microsoft offers that service as a paid cloud service that provides 50GB of space per user.
Office 365
As we just mentioned, OneDrive for Business is also provided as a standalone cloud service. But if you need many cloud services, paying for standalone services is not the best way to manage your budget. This is where Microsoft Office 365 comes in.
Office 365 is a set of cloud services available for personal, education or business activities. The Business and Enterprise plans give you a whole suite of productivity products for your organization. With Office 365, you get the familiar Office applications (Word, Excel, PowerPoint, OneNote, Outlook, and Publisher) plus the following: 50GB of Exchange Online mailbox per user, Skype for Business for corporate instant messaging, audio/video calls and web conferences, Yammer as a corporate social network, SharePoint for file management, and 1TB of OneDrive for Business storage per user. Each plan will give you some or all services in this list, plus other cloud services. You can use one single license on up to 5 PCs, 5 MACs and 5 mobile devices!
With Office 365, OneDrive for Business is provided mostly for SharePoint document library sync. In plans where SharePoint is not included, it can be used as simple file storage.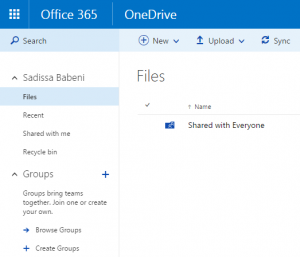 Have we cleared things up for you? I hope so. Let's sum it up! OneDrive is a good fit for storing your personal documents, pictures and videos in the cloud, so you can access them everywhere you go and also share them with friends, family and colleagues. OneDrive for Business is used with SharePoint to sync data to user devices so they can access corporate files, co-author documents with colleagues, and keep working on them while at home or on the road. Office 365 bundles OneDrive for Business with other top-notch services in a single offer so you can better manage your budget.