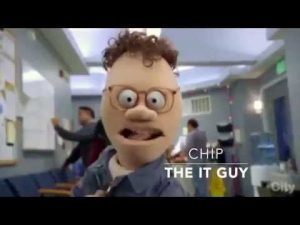 Is this your office?
Everyone in the office loves Chip the local IT Guy. Chip is the one we call when technology spits in our face. Whether it's a slow system, a bug that needs to be squashed, a website issue, or a crash that results in unexpected downtime and data loss, Chip is right there. Not only does he get to the bottom of any issue but he also rights the ship like he's some sort of miracle-working captain.
But your business is growing and Chip is more and more overworked. Chip has certain skills that you'd love to use to develop innovative applications and revenue-generating projects– but he's too busy running around fixing things that break. Or he's performing the most mundane and routine tasks day-in-and-day-out just to keep things secure and running smoothly.
You get a sense that Chip's overburdened and he's saddled with too many responsibilities. His demeanor has changed from pleasant to moody. You're noticing cracks in his work. You fear Chip is being pulled in too many directions and the reliability of your server, network, and applications, as well as the integrity of your data, are all at risk.
Your employees have been thinking Chip should be fired. You're not going to fire Chip. But you're also not going to hire anouther  full-time technician to help support Chip. You need to help Chip by exploiting IT automation and managed services to handle many of the monotonous tasks making Chip hate his job right now.
Let's help Chip…..
Focus Primarily on Cost-Cutting and Revenue Increasing Projects: First things first, Chip has to realize that he can't do everything himself. Where are his skills best used? Whether it's processes that help drive down costs or ones with the potential to raise revenue, evaluate the projects in the queue and rank them by what impacts the bottom line the most.
Once that's done, look at the day-to-day processes designed to keep things running securely and efficiently. What can be off-loaded from Chip? Determine which of those tasks can be automated either through the cloud or managed services.
Use a Managed Service Provider like ComTech: Using our ActiveCare managed services not only alleviates much of Chip's pressure and stress, but also boosts productivity and gives the company a much improved ROI (Return-on-Investment) on their technology investment.
While technology has gotten easier for the end user, it has become more complex on the backend with the advent of virtualization, cloud computing, and advanced infrastructure.
Using ComTech's ActiveCare Services gives Chip access to a trusted advisor, a 24/7 help desk, remote monitoring and management tools, mobile device management tools, and much better disaster recovery and business continuity solutions. All without the overhead that comes with hiring more help for Chip. ComTech offers a consistency to not just your end-users but also your main IT guy who will certainly appreciate the help.
The Human Firewall
Help is HereComtech offers multiple forms of protection that is updated on a daily basis.

1. ComTech's ActiveCare Security Suite

Protection against all types of malicious software including: viruses, spyware, worms, Trojans, rootkits, and zero-hour attacks. The program also updates its definitions automatically and on continual basis. And there's no need to ever renew licenses for as long as you remain a ComTech partner.

2. ComTech Complete Firewall Protection
Monitor firewalls, network traffic devices and apps to identify abnormal activity, unexpected access attempts and potential threats.
Eliminate downtime due to misconfigured firewalls.
3. ActiveCare CloudFiltering - Total email Security
CloudFilter stops the junk and lets the good email through. Messages which contain offensive, harmful, or policy violating content are held in quarantine, while any good messages continue on their way to the end user.
4. ActiveCare Managed Desktops and Servers
Our preventive maintenance service for desktops proactively and regimentally monitors and addresses common problems experienced by desktop users. Whether it's viruses, spyware issues or installing patches, we handle it all quietly and in the background while your employees remain productive.
With our managed IT services for servers, you'll enjoy the benefit of a full team of IT specialists keeping your systems in excellent working order. For a small, fixed monthly fee, we monitor your systems 24/7, apply patches, ensure backups, keep viruses at bay, and perform a host of other proactive measures. Little problems don't become big — and expensive — and in most instances, you won't even know there was ever an issue.
Contact ComTech to help you manage your IT systems through better Smart-Sourced IT