Disable MS Office 2013 Start Screen & Always Open Blank Documents
MS Office 2013 is without argument the most polished face the productivity suit has ever had, to date. It's an obvious outcome of it being around for years and being improved upon. That said, I don't always like the new start screen in Office 2013 which stalls the actual program being launched. I use Word quite often and I'm still in the habit of launching it from the taskbar and immediately being able to start typing or at times, pasting text. The start screen is often an unnecessary extra step for me and at times very annoying. For anyone in the same boat, there is a simple solution to this problem and that is to disable the start screen. It's an option that can be exercised on a per-app basis for the Office Suit and is very easily reversible.
Launch the MS Office and go to File>Options>General.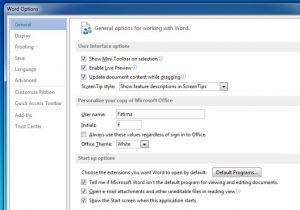 Scroll down this screen and under Start up options, uncheck the 'Show the Start screen when this application starts'. The option refers to the myriad of document options you see when you first launch the respective Office app and disabling it will set the default to always open a blank document.

If at any point you want the Start screen to appear again, return to this window and enable the option again. Granted, you can't choose which type of document will open by default but this does get rid of the added step to launching the most commonly used type of document or presentation, or spreadsheet.
The Start screen exists to make the more obscure but still highly useful templates available in the Office Suite more easily accessible to users but it can be a hindrance because you're more likely to create blank documents, load custom presentation templates or use blank ones, and use the default spreadsheet layout than needing the other pre-sets.
Original Post:
https://www.addictivetips.com/microsoft-office/disable-ms-office-2013-start-screen-always-open-blank-documents/