Applies to: Outlook 2013
You can open a shared calendar and view others entries. First, they must share the calendar with you through Exchange.
Open Outlook. Click the Calendar button on the navigation pane.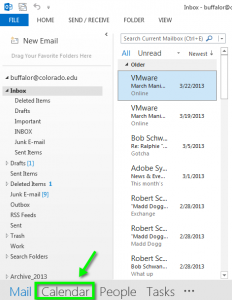 Click the Open Calendar drop down menu. Select Open Shared Calendar...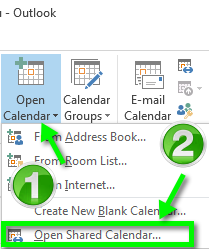 Click the Name... button

Select the name of the person whose calendar you would like to view from the list. Click OK.
(Note: This person must first grant you permission to view their calendar)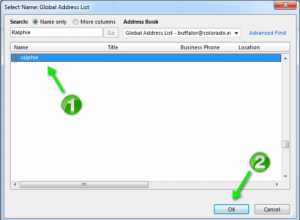 Click OK.

The shared calendar will appear on the right side of your screen. You can click the name of the calendar, and view its content.
TIP: The name of the shared calendar will also appear on the left-hand side of the screen with a checkbox beside it. Uncheck this box to close the shared calendar. You can recheck this box later to view the shared calendar again.

 Notes:
You can open only the default Calendar. Even if a person has created an additional calendar, you can open only the default Calendar.
To remove a calendar from the Other Calendars list, right-click the calendar, and then click Remove from Other Calendars.
The owner of the calendar items controls who can see the items and change them.
You can view up to 30 calendars in side-by-side mode in Calendar view. However, custom view settings on your calendar may not be displayed correctly if you use this mode. To ensure that your custom view settings are displayed, right-click any calendar in the list of shared calendars, and then click Open on the shortcut menu. The calendar will open, and any other open calendars will close. The view settings for the selected calendar will be in effect for the current calendar and for any additional calendars that you view subsequently in side-by-side mode.